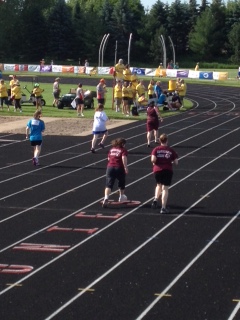 It is officially summertime in Minnesota!  Northeast Residence has had a very busy spring and we have a busy summer ahead of us.
As I have mentioned in a previous article, in 2015, NER will continue the tradition of raising money for the needs that we have always provided to our clients such as camps, trips, property improvements, and Special Olympics.  This year we have a few "BIG" additions to this list of reasons to support us with your donations.  In 2015, NER will be purchasing a wheelchair accessible van and will provide property adjustments/improvements to our homes for clients who may have accessibility needs.
We had a successful spring season here at NER.  At the end of April, staff, clients and volunteers participated in our annual Tootsie Roll Drive.  Final numbers are not in yet, but it looks like we will raise approximately $11,000 from our participation for this three-day event.  On May 29, we held our annual Fundraising Dinner.  While we don't have even preliminary numbers from what we fully raised at this event, we know that we raised $10,000 ($3,000 more than last year) from the Fund A Need portion of the event!  It was a very fun event and I am so impressed to see the support that you all provide to the people of NER.  Thank you to all of you.
Northeast Residence had a number of clients that participate in Special Olympics track and field and on the weekend (June 18-20) was the Minnesota Special Olympics Summer Games in Stillwater.  Congratulations to all of our athletes for participating. Thank you to all the staff and a special thank you to the coaches Brandon Spears, Tim Daniels, and Kevin Heroff for the time, energy  and commitment in working with our athletes and having a successful season this year!
Events that are coming up include the NER Luau, Driving for Dreams Golf Event, Employee Picnic and a new addition in 2015 – an NER Open House.  See more details about each event below:
On Tuesday, July 21, clients and families of NER are invited to our annual Luau.  This popular event for clients and their families will be all about family, fun and food, and of course dancing. Invitations have been sent.
The Annual Employee Picnic is going to be held on August 5.  This includes family fun, games and lots of good food!  Invitations for employees will be coming out soon.
On August 10, we will be holding our 15th Annual Driving for Dreams Golf Tournament at Indian Hills Golf Club in Stillwater, Minnesota.  If you have joined us in the past for this fun event we look forward to seeing you again this year.  We have trophies, opportunities to purchase extra chances to win and a silent auction.  If you have never joined us in the past, please consider joining us this year.  For more information please view the golf flyer.
New this year Northeast Residence will be hosting an Open House at our main office at 410 East Little Canada Road, Little Canada Minnesota.  We will have hot dogs, chips, water, kid's games, a booth with information about NER and a job fair booth.  This event is open to the public and we invite all of you and ask that you invite your family and friends as well.  The Open House will be held from 8 am to 7 pm.  We look forward to seeing you!
I want to encourage you all to "like" Northeast Residence, Inc. on Facebook.  There we post pictures from our events, links to registrations for our upcoming events and we even have a link to a video featuring our client Joel Loer that was submitted to a local film festival.  Northeast Residence even has a twitter account at @NEResidence.  We would love to get our "likes" and "followers" numbers increased and keep you up to date about what is happening here through these avenues as well.
We are still actively recruiting new staff.  We are continuing posting our job openings on social media, job boards, local news outlets, local colleges, and job fairs.  Please mention Northeast Residence to your family and friends as a wonderful place where people can find meaningful and fun work.  Thanks to all of you for your support and have a great summer!
Heidi Holste,
Executive Director