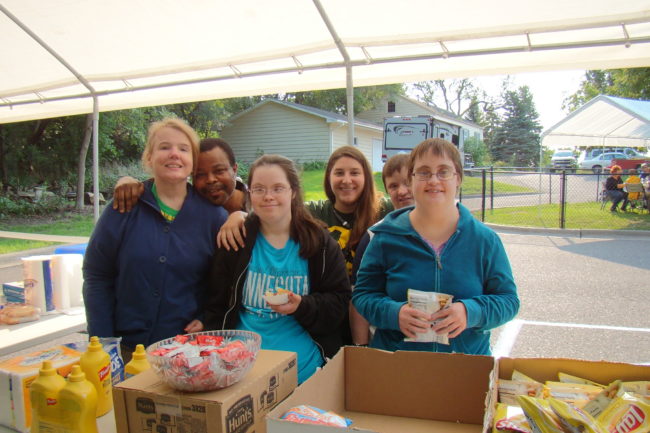 The week of September 13, 2015 officially begins the nationwide celebration of Direct Support Professional Week!  Let's all celebrate our direct support professionals during this week.
Here at Northeast Residence (NER) we try to always offer our sincere appreciation and salute the people we call direct support staff.  Anyone who is part of NER knows how vitally important quality direct support staff are to the clients we serve.   In this week of September 13, 2015 we will especially celebrate the work you do! You not only care for our clients but you also support, work, play and interact in our communities with families and loved ones of clients of NER on a daily basis.  We appreciate the work that you do each and every day! Give your selves a hand and feel proud of the work that you do.
As a demonstration of our appreciation, we will be providing a certificate for each direct support staff to receive an ice cream treat from Cup and Cone and Northeast Residence, in celebration of the work that you do. Management staff will distribute these certificates beginning on September 13, 2015.
In addition, the association that represents providers like NER (ARRM) has requested a proclamation from Governor Dayton's office, officially proclaiming the week of September 13-19, Direct Support Professionals Week in Minnesota.  This proclamation will officially recognize the work that direct support professionals do in Minnesota.  The United States Senate has already introduced a national DSP week resolution that has been co-sponsored by Minnesota's U.S. Senators Al Franken and Amy Klobuchar.  Thank you to the direct care staff at NER and across the country!
If you have your own ideas about how to recognize and support the direct care staff that you work with, whether you are a family member or a staff, I encourage you to implement your idea and also to share these ideas with me or any other staff at NER.
Looking back at the spring and summer here, we have been busy having fun!  As the summer winds down (yes it is winding down) it is good to reflect on what we have accomplished at NER and to look toward the future.  We began the spring with our Annual Fundraising Dinner; clients participated in Special Olympics Track and Field, clients and families gathered for dinner and dancing at our annual Luau and staff gathered for the employee picnic. We also had our Annual Golf Tournament and just this last weekend Special Olympics Bocce Ball finished up their season.
Looking ahead for the remainder of summer and beginning of fall, we invite you to attend the NER Open House being held on August 26, 2015.  The Open House will be held at our offices located at 410 East Little Canada Road, Little Canada, Minnesota 55117.  We enthusiastically invite community members, staff, families, and friends to visit our offices to learn more about Northeast Residence, Inc., including our services and programs, meeting our staff and volunteers and hearing stories about who we are.
During the open house there will be a job fair, free doughnuts from 8 am – 10 am, free hot dogs from 10 am – 7 pm and fun games for kids to play.  We will also have information on hand for families on services for their children and loved ones.
Beginning the week after Labor Day, NER clients begin the fall season of bowling in their Special Olympics Bowling League.
The clients always look forward to this event and we are up to 40 bowlers this year!  We are still in need of a few coaches so please contact me if you are available and willing to be a volunteer coach.
Last but not least, this summer the Minnesota Department of Human Services announced a new rule that establishes methods, procedures and standards for the use of positive support strategies with persons receiving services.  This rule is being referred to as the Positive Support Rule (PSR) and requires that all staff who work with clients to receive at least 8 hours of training.  Northeast Residence strongly believes and has implemented positive support strategies with all of our clients and staff for many years.  We have provided some of this training to new staff with the current training we offer and we are working to fully comply with this new training requirement.  With anything new, we must develop a system to ensure that our training is comprehensive and complete to ensure we are complying with the rule and meeting the needs of our clients.
Please do enjoy the rest of your summer!
Heidi Holste, Executive Director