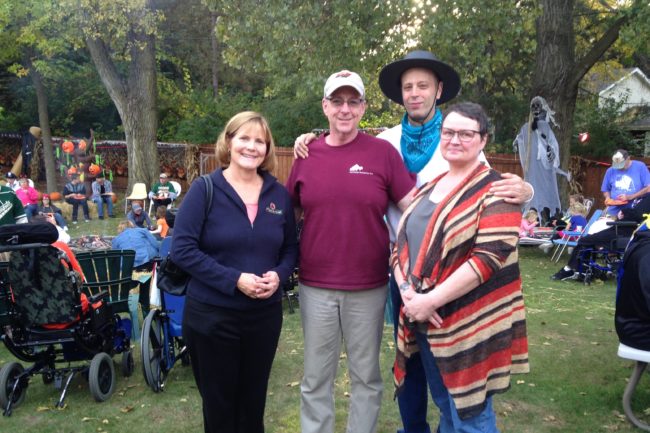 Thank you to the guys that live at the Northeast Residence, Arcade House – Joel, Brian, Steve and Pat and to Rick and Teresa, staff from Arcade and a special thanks to Rinny and Liz, Carla, Lin, Sondra, Wade and Tim, the NER Maintenance staff, and for all the people and all the staff that helped people get costume ready – for the always popular and successful Annual Bon Fire.  It is always such a fun time and the weather has been great for the few past years and this year was no different.  Please see our Facebook page for fun pictures.  Thank you also to Maplewood Mayor, Nora Slawik for attending the Bon Fire and visiting with our clients, staff and Board member Ann Tulloch and husband John.
The NER Raiders, NER's Special Olympics Bowling team has been practicing every Tuesday night and have already had one competition.  The athletes continue to practice on Tuesday nights in preparation for the area competition happening the weekend of November 14.  Thank you to all of the NER staff and volunteers for making the Northeast Residence Raiders a fun and exciting team!  A special thanks to Candy, Carrie, Deb, Lynette, and for all the coaches and staff who faithfully work with our clients to ensure the fun and success of our athletes and for the time and energy they put into making our bowling team a success.
The athletes have a great time!
Our Sunday BINGO sessions have ended for the year, but thanks to Colleen Roberts for volunteering her time to call BINGO for our clients at our Duluth house.
Upcoming events for NER will include the walking club which begins in January and the Advocacy Committee efforts.  Please watch this newsletter for future updates of the efforts of the NER Advocacy Committee as well as messages from the 5% Campaign as we get ready to advocate on behalf of our clients! If you are interested in giving feedback to the state of Minnesota and the Minnesota Governor's Council on Developmental Disabilities, they are conducting a survey to better understand what individuals with developmental disabilities, their families, and providers believe are the issues that need attention in the next 5 years. The deadline to respond is (we have posted this on our Facebook page for people to see earlier, but the deadline) is November 1. http://www.surveywriter.net/in/survey/survey364/GCDD2016.asp
November 12, 2015 is Give to the Max Day in Minnesota.  As we have in past years, NER will participate in Give to the Max Day and kick off our annual appeal very soon.  Please watch this newsletter, your e-mail and your post office mail for further information.  Each year we raise funds to provide camping trips for our clients, funds for client vacations, funds for adaptive equipment, funds for our Respite program, funds for modifications to our homes and other needed items and services that our clients want and need.  This year we were able to raise funds for all of these plus a wheelchair accessible van for our clients.  Thank you to all of you who have donated to NER in the past and please consider continuing your support in the future.  These funds are needed and used wisely!
As I mentioned in the previous newsletter articles; recently the Minnesota Department of Human Services announced a new rule that establishes methods, procedures and standards for the use of positive support strategies with persons receiving services.  This rule is being referred to as the Positive Support Rule (PSR) and requires that all staff who work with clients to receive at least 8 hours of training.
Northeast Residence strongly believes and has implemented positive support strategies with all of our clients and staff for many years.  We have provided some of this training to new staff with the current training we offer.  With anything new, we have developed a system to ensure that our training is comprehensive and complete to ensure we are complying with the rule and meeting the needs of our clients.
I am very pleased to announce that at this time, we have completed a majority of the training with our staff.  Thank you to the staff of the training department, Jacob and Joseph for putting on 7 – 4 hour training courses for 310 plus employees, to our helpful staff who assisted the training staff in developing this training and for all of the NER staff who have attended these trainings.  We look forward to continuing to work on positive support training with our new and existing staff.
All of us who work and are involved with NER thank you all for being committed to our organization as your work, as a family member(s) who may live or work here and for your general support of NER.  If you are interested in becoming more involved by donating money, or volunteering with any of our programs, we would be very happy to have your involvement.  Please call me at 651-765-0217 (x13) or e-mail me at hholste@nerinc.org and we will get you involved.  Like our staff, our volunteers are very important to the success of our clients and when clients succeed so does NER!
Enjoy these last days of fall!
Heidi Holste, Executive Director