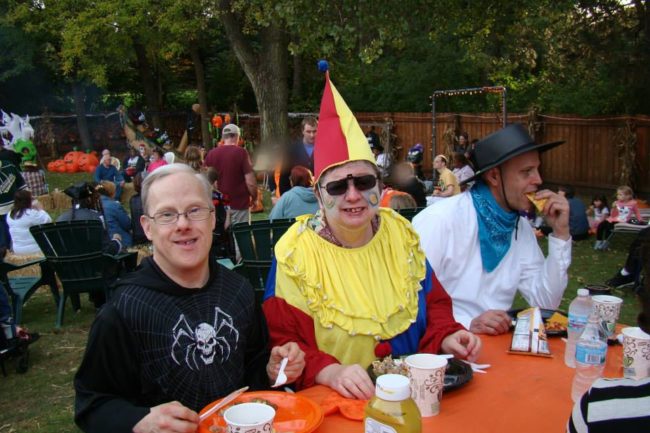 As we slide right from summer into fall, very quickly it seems I want to report on the many exciting and positive things happening at Northeast Residence.  Our athletes that participate in Special Olympics bowling officially started with practice every Tuesday night at the AMF Saxon Lanes on Little Canada Road.  At this time we know that the athletes will have their Area Competition on Sunday, October 16th in Blaine and the State Competition will be the weekend of November 11-13th with the location still to be determined.  The athletes are always looking for people to cheer them on and if you have any interest in volunteering as a coach, please reach out to Traci Maruska, Head of Delegation, for Northeast Residence, and she can provide you with more information.  This is a wonderful experience for our athletes and they are very proud of their medals and efforts!  We also have the annual Bon Fire at the Arcade house coming up on October 22.  This is one of the popular events that happens at Northeast Residence that the men who live at the Arcade house and staff host each year.
As you know staffing challenges have existed for some time and we continue to recruit and work to retain quality employees that are committed to the people we serve.  We strive to be the organization that people want to work for.  We expect to continue to have some turnover, it is the nature of the work that we do, but we continue to strive for as few openings as possible and to look for ideas to retain our staff who we appreciate every day.  Please make sure you provide your support for our staff as well when you see or talk to them.  If you know of anyone that has an interest in working with the people we serve, please have them visit our website, or call our Human Resources Department at 651-765-0217.
You may have also heard on the news or from some of our staff about the impacts of the Federal Labor Standards Act which requires us to think differently about the way we pay our staff that are salaried and to adjust the work of our program supervisors as well as our designated coordinators.  If you are interested in more information about this, please reach out to the program supervisor of the home you are affiliated with or to Shari Newgard at snewgard@nerinc.org or Heidi Holste at hholste@nerinc.org.   In addition to changing the way we pay our salaried staff we will be changing our staff on-boarding process for all new staff and we are planning to provide career ladders at Northeast Residence through additional opportunities to apply for career advancement through "leads" that are eligible for assisting at different homes and will also be eligible for pay increases.  Look for more information to come on these positions. We will also be offering numerous training both internal and external opportunities for providing leadership and management training as well as train the trainer training.  Northeast Residence is committed to the people we serve and we believe to be able to support and advance the knowledge of our staff only serves to retain employees and to ensure that we have high quality applicants and employees that want to work here.  Ultimately as our Mission states, this enriches the lives of the people we serve!
If you are interested in advocacy and I would argue that we all should be interested, there is a Candidate Forum that is sponsored by Northeast Residence, ARRM, Best Life Alliance, and other providers.  This Candidate Forum will be held at the Roseville Public Library on Monday, October 3, 2016 from 6:00 – 8:00 pm.  The Best Life Alliance will once again be partners of ARRM and of Northeast Residence as we go into the 2017 legislative session. The legislation is still being developed, and I encourage each of you to watch in this newsletter and in other organizations you may be affiliated with and write to your legislators and ask them to be sure to provide increases for the service providers such as Northeast Residence.  We are being asked by the federal and state governments to "do more with less" and we want to do more with more!  We want to provide wage increases for all of our staff.  We are able to do this when we are able to receive rate increases from the state.  Please lend your voice and tell your state legislators what the services your loved ones receive mean to you and the important role that staff have in their lives.
In the remaining section of this newsletter article I want to highlight some of our future direction.  Advocating for the people we serve through person centered planning, through Olmsted implementation, through better and increased rates are very important pieces of our work today and will continue into the future.  Additional focuses for the future will also be continuous improvement in our own internal resources – our staff as I detailed above, as well as looking for a new building for our administrative services so we can consolidate the number of locations that we operate for our office staff and also so that we can expand the services we provide in our Adult Day Care as well as in our Extended Day Program.
While we await the state and federal governments directives on the Olmsted plan and how it may impact us as providers of services to people, we are continuing to provide education and opportunities to our staff to implement person centered practices and to provide training that ensures all of our staff come to work and be recognized as person centered people as well.
In the coming months you will be asked to provide your e-mail address as we are actively seeking ways to incorporate this newsletter into an electronic format.  We are working on a video that we will use to highlight who we are and who we serve and we will share this with our current staff, new staff, and friends of Northeast Residence at our different events that we hold throughout the year.
I wish you all the best as we enter into this fall season and please keep the people we serve at Northeast Residence and our staff on the top of your minds as you consider providing financial gifts as we reach the end of the year.  As we are a non-profit, we will soon be kicking off our Annual Appeal and the friends of Northeast Residence that donate to us do so because they understand the need and the value of the services we provide.  These donations cover what the reimbursement from the state does not.  Through your generous donations, we are able to continue to operate our Respite Care program, offer trips to people we serve that cannot afford this on their own, purchase adaptive equipment and make adaptive conversions to homes, and to fund our special activities for the people we serve such as our Special Olympics events. If you are interested in volunteering or donating or know of anyone wanting to do so, please visit our website where we have more information about our events.
You can also reach out to Heidi Holste, Executive Director at hholste@nerinc.org if you would like more information. Donations have helped fund many of our programs and have a great impact on the lives of your friends and loved ones.
Heidi Holste, Executive Director