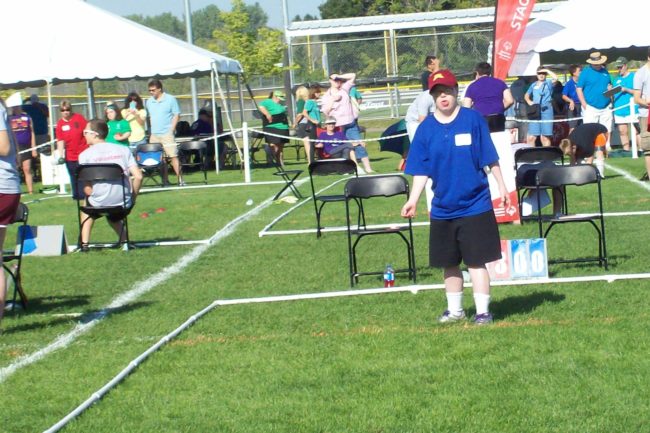 I want to spend the majority of this newsletter talking about Special Olympics.  If you have a loved one who participates in Special Olympics you know how very important these competitive events are for them.  As part of our fundraising we do as a nonprofit organization, Northeast Residence raises funds so that we can support our athletes to continue this tradition of participating in Special Olympics.
For those that do not know a lot about Special Olympics, our clients participate through bowling, track and field and bocce ball.  If you have not attended a Special Olympics event, I encourage you to attend and cheer our athletes on and I also encourage you to volunteer.  The athletes have a wonderful time competing with their peers and they even wear their medals to work the next week to show their co-workers and friends their accomplishments. It is truly fun and inspiring to watch the athletes and to just be a part of the exciting atmosphere!  I want to thank all of our volunteer coaches and special thanks to Candy Johnson who is also the Supervisor at our Rollingview home.  Candy has been the head coach of our bowling program and our bocce ball program for many years.  I want to recognize Candy and the many hours of service she has provided to our bowling and bocce ball athletes and the volunteers and staff who she has supported.  Candy has decided to step down as head coach of our bocce ball and bowling events but has agreed to remain on to assist with the administrative pieces of Special Olympics.  Thank you for your time, support and energy Candy!
Thank you to Lynette Vickerman from our Maplewood Extended Day program who has agreed to be the coach of the bocce ball program and we greatly appreciate her service.
Thank you also to our 2015 Track and Field Coaches.
This year we had three NER employees agree to coach our Track and Field Program – thank you to Brandon Spears (Hugo A and B), Tim Daniels (Duluth) and Kevin Heroff (Cedarwood).
At this time we are seeking a head coach for the bowling program and volunteers to assist with all of the Special Olympic programs.  The time commitments for each sport vary.  Please contact me at hholste@nerinc.org or call me at the Northeast Residence office at 651-765-0217, extension 13 if you have an interest in volunteering for this very rewarding cause.
Thank you to all of our coaches, those who are named and those who are not named in this article.  What you do is so extremely important to our athletes and we hope you are willing to continue your service.
Finally a few reminders of upcoming events:  The Northeast Residence Employee Picnic will be held on August 5, 2015 at Podvin Park, invitations have been sent to employees.
The 15th Annual Driving for Dreams Golf Event is being held again at Indian Hills Golf Club on August 10, 2015.  We still have spots available for single golfers and for teams.  Contact Jessica Baker at jbaker@nerinc.org if you are interested in playing or sponsoring our event.
The Northeast Residence Open House will be held on August 26, and invitations are being sent this week.  This event is open to the public and will be held at the Northeast Residence Office located at 410 East Little Canada Road in Little Canada, Minnesota from 8am to 7pm.
Have a great month!
Heidi Holste, Executive Director