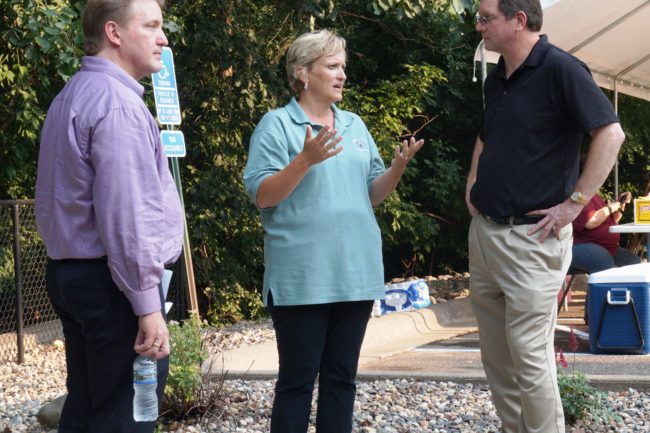 While it may feel like fall one day and like the middle of summer the next day, alas we are moving into the Season of Fall!  As always, there are a number of things happening at Northeast Residence.
As I mentioned in the previous newsletter article; recently, the Minnesota Department of Human Services announced a new rule that establishes methods, procedures and standards for the use of positive support strategies with persons receiving services.  This rule is being referred to as the Positive Support Rule (PSR) and requires that all staff who work with clients to receive at least 8 hours of training.
Northeast Residence strongly believes and has implemented positive support strategies with all of our clients and staff for many years.  We have provided some of this training to new staff with the current training we offer and we are working today to fully comply with this new training requirement.  With anything new, we have developed a system to ensure that our training is comprehensive and complete to ensure we are complying with the rule and meeting the needs of our clients.
If you are a staff person reading this message in one of the homes, day program, respite program, extended day or in-home, you are all required to attend these training sessions.  Please call the office today at 651-765-0217 to register.  We are offering a number of different times of day and different days of the week so as to accommodate differing schedules.  It is very important that each person contact the office as early as possible as this training requirement must be completed as soon as possible.
Other updates to offer to you all:
I want to extend a thank you to all that attended our Open House on August 26, 2015.  The weather was beautiful and those who were able to attend had a great time.  I was able to personally talk to families, clients, community members, city council members from Little Canada and Shoreview, staff, and children who attended.  I also want to offer a special thank you to the NER Advocacy Committee for taking the time to plan this day.  I did hear a number of comments about how nice the day was and it was nice to just be able to be with people and enjoy getting to know one another.  One aspect of the day was to reveal our newly redecorated lobby area and reception area.  In this space, we have highlighted the clients we serve and provided opportunities for staff and new applicants to see the fun and joy our clients have and that we have in turn working with our clients.  If you have never visited our administrative offices or would like to see the redecorated space, please feel free to stop by. We enjoy having visitors here.
We want everyone to know that we continue to be proactive in recruiting staff to work and to stay at Northeast Residence.  Our Human Resources department attends job fairs; we post ads on job websites including the Minnesota Council of NonProfits, Minnesotajobs.com, Indeed.com, local newspapers, etc.
We also received some applications through attendance at our Open House.  When we receive an application whether in person, or on-line we contact the applicant that day and if they are qualified, we work to get them started and trained as soon as it is possible for the new employee.  We have a Staff Retention and Recruitment Committee that works to come up with ideas for staffing as well.  We want to remind everyone that we have a referral program as well for current staff who recruits staff to work here.  Be sure to contact Human Resources and read the rest of this newsletter to learn more about this referral program.
As we move more into the winter months, the Advocacy Committee will be working on plans to create opportunities for staff and family members to communicate with legislators about the need for additional funding so we can provide wage increases to our employees.  In this day where there are many options for an individual to work, we want to be the place that people choose to want to work.  Part of that is asking for rate increases each year from the Minnesota Legislature.  As I have explained before, the majority of the funding that Northeast Residence receives for the services we provide to our clients comes from Medicaid.  Minnesota lawmakers set these Medicaid rates and there are no automatic increases, so for us to be able to provide pay increases to staff, we must get additional funds from the decisions made by lawmakers.
I know firsthand from my past work as a lobbyist that lawmakers do respond when they know there are issues.  The Advocacy Committee will be working on a plan to ask local lawmakers to attend tours of our homes, meet our clients, staff and families and to provide draft communications that we can use to communicate to our legislators via e-mail or in person at local events.  It really is up to all of us to share our stories and ask them to provide rate increases.  Northeast Residence will also continue our participation in the trade association ARRM that represents organizations such as ours and we will participate in advocacy efforts such as the 5% campaign, which works to secure rate increases for the services that we provide to clients.  
More events…On October 10, all NER clients are invited to our Arcade House for the Annual Resident Halloween Costume / Potluck Bonfire Extravaganza.  The Bonfire will be held at our Arcade House and will be from 5 – 8 pm.  More details will be communicated to each site Supervisor.
Thank you to Colleen Roberts for providing BINGO for our clients.  The last session of BINGO for the year will be on October 11 at 1:00 at our Duluth House.
While our fundraising event season has ended with the golf tournament on August 10, the Fundraising efforts that we have are all year round.  If you were unable to attend our Annual Dinner or our Golf event, we do still appreciate and accept donations at any time during the year.  You can either mail a donation right to the office at 410 E. Little Canada Road, Little Canada 55117 or you can contribute on Give to the Max Day which is being held on November 12, 2015, or participate in our Annual Appeal.  Letters for the Annual Appeal will be going out in October this year.
The donations we receive this year will go toward the purchase of a wheelchair accessible van, camping for clients, Special Olympics, adaptive equipment and adaptive property needs for our homes.  
Thank you to all of you for your support and great work on behalf of and for the clients at Northeast Residence.
Please know that you can reach out to me or Shari Newgard, Program Director at any time if you have any questions or concerns.
Heidi Holste, Executive Director