Dear Friend of Northeast Residence,
My name is Becky Bollinger, and I am writing to ask for your support for Northeast Residence, where my aunt Mary Anne has lived since the mid-1990's.
You can read Mary Anne's full story below.
Mary Anne and I thank you in advance for your generous support.
Becky Bollinger
Program Compliance Manager at NER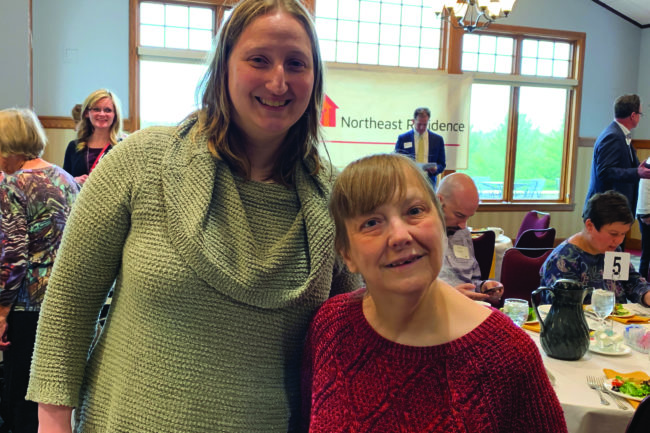 Mary Anne's Story
Mary Anne was born in 1962, the youngest of six in a farm family. By all accounts, it wasn't an easy pregnancy. My Grandma had spent some time in the hospital over the summer. Outside of that, there was no real explanation for why Mary Anne was "special". For my entire life, she was just Mary Anne.
Mary Anne's Home Life
As she grew up, Mary Anne was a bundle of energy and was always on the go. I've heard stories about her exceptional running abilities to things and away from things. She lived on the farm and attended the local Day Program in Sandstone, twenty-five miles away. She had friends there and specialized in making rugs. At home she liked watching the birds fly over the fields while working on her Etch-a-Sketch. She also had an incredible innate sense of when her favorite shows would be on TV! Through home and school, Mary Anne learned excellent manners. To this day when meeting her, she shakes your hand and greets you by name. And when you visit her at home, she will always offer you a beverage, often pop, in the hopes that she can have some too.
Mary Anne Needed More
In the mid-1990s, something changed. She was not as happy living the quiet life on a farm. After some episodes, she was admitted to Cambridge State Hospital.
When Mary Anne stabilized, the family decided to fast-track their original plan of having her live in a group home after Grandma passed away. They had already done their research and decided that Northeast Residence was their top pick. My mom always described NER as the "Cadillac" of group homes. She first moved into the 43rd Ave Home, and in 1997 moved into their current Hale home.
At Hale House, Mary Anne is Thriving!
She is always going places and experiencing new things. And she always has new people to talk to. As an adult, I found out that Grandma felt bad for not being able to continue to care for and provide for Mary Anne. In truth, small town life was not Mary Anne's cup of tea and at NER, Mary Anne is living her best extroverted life.
At NER, I Am Thriving!
In 2001, I was looking for a temporary job to get me through until I could go to grad school. I applied at NER and found a company with core values that I could get behind, as well as meaningful work. I just celebrated my 20th anniversary at NER!
Today's Staffing Shortage
Since then, the industry and the world has changed. The staffing shortage that we see in the "now hiring" signs in most business windows is a daily fact of life for Mary Anne. The pandemic has also impacted how much she is able to get out and do things.
This current reality has helped Mary Anne refocus on what is truly important to her. She started a new job at Merrick where she earns a paycheck. She is planning several coffee outings to spend it!
NER stands behind our mission and we are committed to providing quality services so people can live their best life.
How Your Donations Make a Difference
Your donations to NER can help in a myriad of ways. These dollars can help purchase a piece of equipment that assist people to live more independently. These donations are also used to enhance training for our staff. With your help, we can pay for medical costs not covered by the person's insurance, such as a crown on a tooth or hip replacement. Donated dollars are also used to purchase accessible vans and improve our technology infrastructure.
With Your Support, the BEST is YET to Come
Over the last two years, the ability for all of us to communicate virtually has become necessary and at times convenient. However, like everyone, Mary Anne and I look forward to when we don't need to worry about COVID.
Mary Anne and I ask you to invest in the people supported by Northeast Residence. With your support they will continue to live their best lives.
Sincerely,
Becky Bollinger
Thank you for your continued support.